Recipe Of Paneer – 5 Must Try recipes
There is hardly any person, who doesn't prefer PANEER This milk product has many nutritional benefits. Almost all people eat paneer, but very few people know about the benefits of regular consumption. Paneer is rich in proteins, which helps in removing weakness and making the body fleshy. It is also rich in calcium, phosphorus, vitamins and minerals that help the body to grow. Their intake keeps the bones and joints strong. In this blog let's look at 5 recipe of paneer
There are two types of paneer–soft paneer and hard paneer.
Calcium and phosphorus in paneer help bone and tooth growth. Paneer can help prevent a range of ailments and joint pain, such as osteoporosis, which causes bone loss. Minerals in paneer are helping to resistant against gum disease and tooth infections Because it gives energy fastly, athletes who are into hard workouts can include paneer in their diet after exercise. Vitamin D is rich in it and it helps to prevent tooth decay. Paneer can certainly be included in the children's diet. Paneer is rich in fibre, so it works to maintain your digestion. Paneer consumption works to improve your digestion. I WOULD LIKE TO SHARE FEW RECIPES OF PANEER LIKE PANEER CHILLI , PANEER TIKKA MASALA, PANEER SANDWICH , PANEER CUTLETS.
PANEER CHILLI
 Ingredients:
For batter:
Maida/Plain flour- 3 tbsp
Corn Starch – 5 tbsp
Salt – 1 tsp
Chilli sauce – 2 tbsp
Water – as needed
Paneer – 250 gm
Oil – to fry For the chilli:
Corn Starch – 1 tbsp
Water – as needed
Oil – 2 tbsp
Chopped garlic – 3 tbsp
Ginger julienne – 1′ inch Sliced
green chilli – 4-5
Onion – 1 Shelled
Spring Onion whites – 1/4 cup Diced
Capsicum – 1
Spring onion greens – 4 tbsp
Salt – to taste
Pepper – to taste
Light soy sauce – 1 1/2 tbsp
Chili Sauce – 2-3 tbsp
Ketchup – 1 tbsp
Deseeded Tomato chopped 1
Deep-fried paneer cubes
Method:
 The first step is to make the batter for the paneer, take 3 tbsp of maida or plain flour, 5 tbsp of cornstarch, 1 tsp of salt and 2 tbsp of chilli sauce. Now using some water, make a thick batter. You can totally skip the batter coating and deep frying the paneer if you want to. This just allows to hold their shape, add a crust and retain moisture.
Now add in the paneer cubes and mix them around using hands until well coated.
Add the paneer cubes one by one into hot oil and deep fry the paneer cubes in medium flame until golden and crispy.
Take them down to a kitchen towel-lined plate once done.
 Now for the Chili element, make the corn starch slurry for which take a tbsp of corn starch and add in 2-3 tbsp of water and mix it well.
 Next take 2 tbsp of oil in a very hot wok, to which add in chopped garlic, sliced green chilli, julienne of ginger and stir around for a few seconds.
 Next ingredient is onion shells, white of green onion and salt. Stir and cook for a minute. Add in diced capsicum, some green onion, pepper powder, soy sauce, 2-3 tbsp of chilli sauce and mix around as we don't want anything to burn. Next, add in a tbsp of ketchup and give it a mix, pour in a few tbsp of water to adjust the consistency, this needs to be saucy at this stage. Add in some cornstarch slurry, about a tbsp of it
. 8. After it boils around for a good minute or two, ensuring the corn starch is cooked, add in 1 deseeded tomato, which is optional and give it a final mix before adding the deep-fried paneer cubes. A good sprinkle of green onions and this is ready to serve!
PANEER TIKKA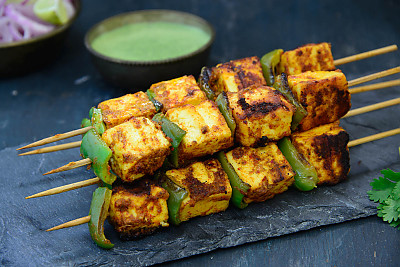 Ingredients:
Paneer – 200 gms
Green Capsicum – 1
Onion – 1/2
For Marination Hung Curd – 1 cup
Ginger & Garlic Paste – 1 tsp
Salt to taste
Kashmiri Red Chilli powder – 2 tsp
Turmeric powder – 1/4 tsp
Garam Masala powder – 1 tsp
Pepper powder – 1/2 tsp
Dry Mango Powder – 1 tsp
Cumin powder – 1 tsp
Coriander powder – 1 tsp
Carom seeds/Ajwain – 1 tsp
Juice of 1/2 Lemon
Method:
1. To make Hung Curd – In a strainer, place the Muslin cloth & add the Curd. Tie it & drain the excess water. Hung Curd is ready.
2. In a large bowl add Hung Curd, Ginger & Garlic paste, Salt, Kashmiri Red Chilli powder, Turmeric powder, Garam Masala powder, Pepper powder, Dry Mango powder, Cumin powder, Coriander powder, Carom seeds/Ajwain, Juice of 1/2 Lemon & mix it well. Marinade for Tikka is ready.
3. Cut the Paneer & Veggies into thick & big size pieces.
5. Add the Paneer, Green Capsicum, Onion & mix well. You can also add Red Capsicum & Yellow Capsicum.
6. Marinate for 1 hour.
7. Pre-heat the Grill at 180° Celsius for about 10 minutes.
8. Skewer the Veggies & Paneer alternately.
9. Grill for about 12 to 15 minutes. In between turn the skewers.
10. Serve the Paneer Tikka with Mint chutney.
PANEER PAKORA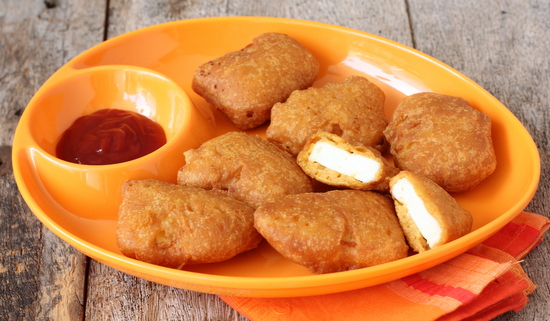 Ingredients:
Paneer – 200 gms 

Salt – 1/2 teaspoon or according to taste

Gram flour /Besan – 1.5 cups (1/2 cup thick / coarsely ground and regular 1 cup)

Ajwain – 2 Pinches 

Red Chilli Powder – 1/4 Tablespoon 

Chaat masala 

Oil (for deep frying) 

Baking soda – 2 pinches
Paneer pakoda Recipe: 
First of all, break down the pieces of paneer into squares. 

Then, in a large bowl, mix both the thick / coarsely grounded and regular besan with a spoon. Add little salt, ajwain and baking soda in it and mix it well in the besan. 

Add some water and stir with the help of a spoon to make the mixture. The mixture should not have any lumps at all. It must be a very soft and smooth mixture.

Cover the mixture with a lid and keep it aside for 10 minutes. After 10 minutes the mixture will become very soft and smooth. 

Now add red chilli powder to the pieces of paneer (do not add red chilli powder in the besan mixture), mix the red chilli powder properly on the pieces of paneer, so that it will spread equally on all of the pieces. 

Deep frying is done by dipping the pieces of paneer in the besan mixture. 

Now, in a pan add oil and allow it to become warm. When the oil becomes hot, turn the gas on to medium heat. Dip some pieces of paneer into besan mixture and add the pieces of paneer one by one to the oil. 

Fry it until they become Light brown/brown colour in colour. Put it in a plate and add the chat masala over it.

Hot and tasty paneer pakoda is ready to eat.
To make fillings for paneer sandwich
 Paneer – 400 gms
Garlic
3 cloves
chopped Large onions – 1
chopped green chillies – 3
chopped Small capsicum – 1
chopped Salt – 1 tsp
Kashmiri red chilli powder – 1 tsp
Garam masala – 1 tsp
Amchur powder – 1 tsp
Chaat masala – 1 tsp
Coriander powder – 1 tsp
Cumin powder – 1 tsp
Coriander leaves
To make Paneer Sandwich 
Bread Slices Butter Mint Chutney Paneer Sandwich Filling
Method:
1. Heat a pan with some oil, add garlic, onions and fry them
2. Add capsicum and fry them
3. Add all the spice powders and salt and saute
4. Add chopped paneer pieces and saute for 5 mins
5. Take a bread slice, spread butter, mint chutney and layer the paneer filling, add generous amounts of cheese
6.Cover it with another slice of cheese with butter and mint chutney
7. Heat a grill pan with some butter, place the sandwich on it
8.Apply some butter on top of it and grill the sandwich till it turns to a golden brown colour on both sides
9. Serve the sandwich hot
PANEER CUTLETS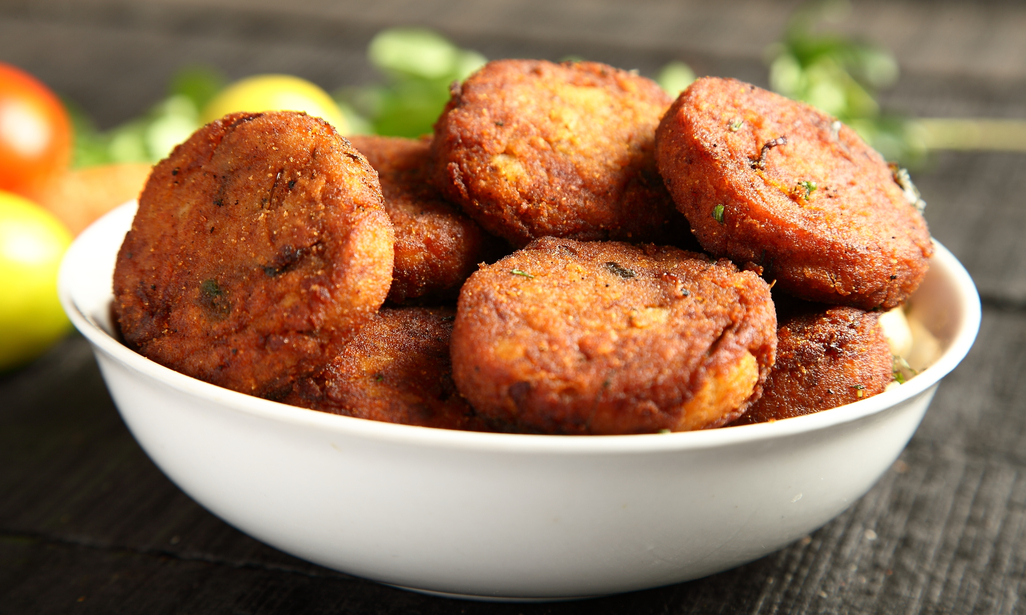 Ingredients:
1 potato boiled and mashed
1/2 onion finely chopped
Coriander leaves 1/2 tsp
chat masala 1/2 tsp
oil 1 cup
toasted bread crumbs
1 small piece of ginger, finely chopped
300g Paneer
chopped cabbage
1/2 capsicum, finely chopped
1/2 carrot, finely grated
1/2 tsp garam masala
2 green chillies, finely chopped
4 tbsp gram flour
1/4 tsp raw mango powder
Salt to taste
Method:
 Dry the paneer by covering it In a cloth for a few minutes
Sauté the veggies in oil, add ginger, onion, carrots, cabbage, capsicum and green chillies
In a bowl add dry paneer, mashed potato, amchoor, garam masala chaat masala, cornflour, salt to taste, coriander leaves and the sautéed veggies
Apply a little bit of cornflour on your palm and shape the cutlets.
In a bowl add gram flour, to which add some water and salt
Dip the cutlets into the batter and then into the breadcrumbs and fry them into the oil.
Paneer Cutlets are ready to be served!